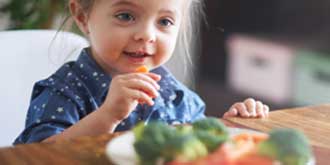 FOOD FUNdamentals 1 & 2

Food FUNdamentals
Facilitated by a Registered Dietitian, these virtual Q & A sessions are designed to provide up-to-date information on key nutrition topics for caregivers of infants (4 - 12 months of age) and toddlers (1 - 2 years old) with plenty of time to address your questions!
Open to all - you don't have to be a Summerville Family Health Team patient to attend.
Upcoming sessions and educational resources for review prior to the sessions are available below.

Upcoming sessions:
Tue
20th Sep
2:00pm - 3:00pm
Virtual Mtg
Infant Nutrition: 4 - 12 months of age
Thu
22nd Sep
12:00pm - 1:00pm
Virtual Mtg
Toddler Nutrition: 1 - 2 years old
Tue
1st Nov
2:00pm - 3:00pm
Virtual Mtg
Infant Nutrition: 4 -12 months of age
Thu
24th Nov
12:00pm - 1:00pm
Virtual Mtg
Toddler Nutrition: 1 - 2 years old
Tue
13th Dec
2:00pm - 3:00pm
Virtual Mtg
Infant Nutrition: 4 -12 months of age