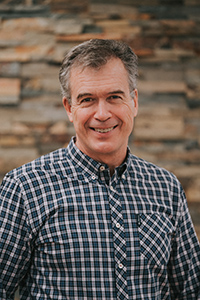 Dr. Alasdair Mackintosh grew up in Alberta and graduated from the University of Alberta (M.D., 1984). He came to Ontario for his Family Practice residency at the University of Western Ontario. After additional training in Obstetrics, he spent several years working in Emergency departments in Woodstock & St. Thomas, and doing Family Practice locums in Toronto and other southern Ontario locations.
Following an exciting year of world travel, he decided to make his home in Ontario, and joined Apple Hills Medical Associates in July 1989. In the years since then, his Family Practice has included delivering many babies, caring for people of all ages, with a special interest in palliative care. Dr. Mackintosh was one of the original physicians in the start up of the Palliative Care Unit at Trillium Hospital and also worked in the ER at the Queensway and Mississauga Hospitals (now known as Trillium Health Partners). Although he no longer does obstetrics or Emergency Dept. work, he continues to do hospital and home visits to his patients who are unable to come to his office.
In 2007, AppleHills Medical became part of Summerville Family Health Team, and since then Dr. Mackintosh has served as both a board member and Board Chair, and is currently the Lead Physician for Summerville FHO Dr. Mackintosh is married and has 2 daughters, enjoys reading, skiing and participating in a Masters swimming program.